Shelf Awareness: enlightenment for readers
Win a signed copy of TEARS WE CANNOT STOP by Michael Eric Dyson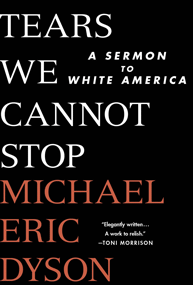 As the country grapples with racist division at a level not seen since the 1960s, one man's voice is heard above the rest. In his New York Times op-ed piece "Death in Black and White," Michael Eric Dyson moved a nation. Isabel Wilkerson called it "an unfiltered Marlboro of black pain" and "crushingly powerful," and Beyonce tweeted about it. Now he continues to speak out in Tears We Cannot Stop―a provocative and deeply personal call for change. Dyson argues that if we are to make real racial progress we must face difficult truths, including being honest about how black grievance has been ignored, dismissed, or discounted. Short, emotional, literary, powerful―this is the book that all Americans who care about the current and long-burning crisis in race relations will want to read.
Enter to win one of 10 signed copies, then tell your friends! Each friend who enters the contest through your referral link will earn you another entry!
When you sign up, you'll also receive Shelf Awareness for Readers, a twice-weekly newsletter that features reviews of the best books published each week.
In order to be entered to win, you'll need to confirm your subscription via a follow-up email sent to the address you provide. (This promotion begins on January 20th and ends February 5th.)