Shelf Awareness: enlightenment for readers
Win a signed copy of POORCRAFT by C. Spike Trotman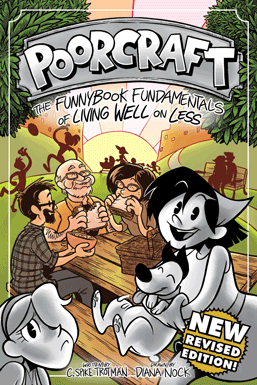 Poorcraft is the essential comic book guide to practical urban and suburban frugality! Whether you're new to independent living, a recent college graduate, or just downshifting to a simpler lifestyle, Poorcraft can help you with everything from finding a home to finding a hobby, dinner to debt relief, education to entertainment. Originally published in 2012, this brand new edition of Iron Circus Comics' best-selling book featured updated chapters on health, education, entertainment, and travel, along with spruced-up footnotes and tweaked art. A great gift for teenagers, new families, or yourself!
Enter to win one of 10 copies, then tell your friends! Each friend who enters the contest through your referral link will earn you another entry!
When you sign up, you'll also receive Shelf Awareness for Readers, a twice-weekly newsletter that features reviews of the best books published each week.
In order to be entered to win, you'll need to confirm your subscription via a follow-up email sent to the address you provide. (This promotion begins on April 21st and ends May 7th.)