Shelf Awareness: enlightenment for readers
10 signed copies of FOWL LANGUAGE by Brian Gordon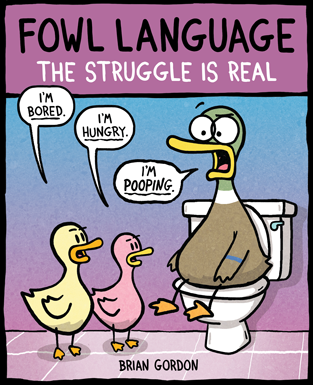 In the summer of 2013, Brian Gordon began drawing Fowl Language as a fun (and often profane) way to vent the flurry of emotions—joy and aggravation, anxiety and contentment, drudgery and delight—that is part and parcel of parenting young children. His work quickly became an Internet viral sensation, shared regularly by millions of people all over the world.
Enter to win one of 10 copies, then tell your friends! Each friend who enters the contest through your referral link will earn you another entry!
When you sign up, you'll also receive Shelf Awareness for Readers, a twice-weekly newsletter that features reviews of the best books published each week.
In order to be entered to win, you'll need to confirm your subscription via a follow-up email sent to the address you provide. (This promotion begins on October 6th and ends October 22nd.)