Shelf Awareness: enlightenment for readers
Win a signed copy of SQUIRREL GIRL: 2 FUZZY, 2 FURIOUS by Shannon Hale & Dean Hale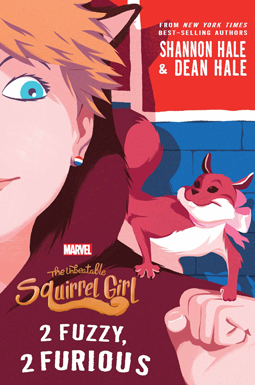 A fresh and hilariously funny take on the award-winning The Unbeatable Squirrel Girl comic book series, written by notable, bestselling duo Shannon Hale and Dean Hale, The Unbeatable Squirrel Girl: 2 Fuzzy, 2 Furious is the much anticipated follow-up to The Unbeatable Squirrel Girl: Squirrel Meets World.
Enter to win one of 10 copies, then tell your friends! Each friend who enters the contest through your referral link will earn you another entry!
When you sign up, you'll also receive Shelf Awareness for Readers, a twice-weekly newsletter that features reviews of the best books published each week.
In order to be entered to win, you'll need to confirm your subscription via a follow-up email sent to the address you provide. (This promotion begins on March 9th and ends March 25th.)