Shelf Awareness: enlightenment for readers
Win a signed copy of HOW TO BE SUCCESSFUL WITHOUT HURTING MEN'S FEELINGS by Sarah Cooper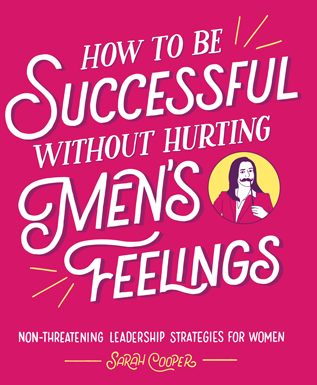 Ambitious women are so scary. In this fast-paced business world, female leaders need to make sure they're not perceived as pushy, aggressive, or competent. In How to Be Successful Without Hurting Men's Feelings, Sarah Cooper, author of the bestselling 100 Tricks to Appear Smart in Meetings, hilariously illustrates how women can achieve their dreams, succeed in their careers, and become leaders, without harming the fragile male ego.
Enter to win one of 10 copies, then tell your friends! Each friend who enters the contest through your referral link will earn you another entry!
When you sign up, you'll also receive Shelf Awareness for Readers, a twice-weekly newsletter that features reviews of the best books published each week.
In order to be entered to win, you'll need to confirm your subscription via a follow-up email sent to the address you provide. If you're already a Shelf Awareness for Readers subscriber, you will still be entered, but you do not need to confirm your subscription. (This promotion begins on October 12th and ends October 28th.)