Shelf Awareness: enlightenment for readers
Cook with Kids Giveaway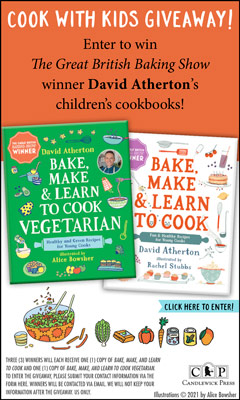 Read ahead with our friends at Candlewick, and bring your besties with you!
As a subscriber to Shelf Awareness, you're already eligible to enter to win The Great British Baking Show winner David Atherton's children's cookbooks from Candlewick! But why hog all of the fun for yourself? Invite your bookish friends to sign up, too!
The more of your friends who sign up, the more chances you will have to win!
Let your friends know that you're loving our free weekly newsletter filled with thoughtful reviews from industry insiders. They'll discover the best new books released each week, all available at their local indie bookstore. You'll both be eligible for our weekly giveaway contests going forward, and you will look forever cool for introducing us!
(This promotion begins on December 2, 2022 and ends December 9, 2022)